Andy
Noble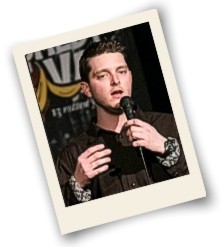 For the last 2 years Andy has been making a name for himself in the Winnipeg comedy scene with his, not too dirty, not too clean but always honest style of comedy. On any given night Andy can be seen performing all over Winnipeg and has made two appearances at the Winnipeg Comedy Fest performing in multiple shows including "The Winnipeg Show" at the Gas Station Theater.
In addition to stand up Andy was also a writer/actor for Shaw T.V.'s late night comedy show "The Week Thus Far". With jokes on a wide range of topics and a laid back style Andy is sure to entertain crowds of all kinds.
Get On Side! Our Goal is to Support Local Hockey and Have Fun!