Gavin
Stephens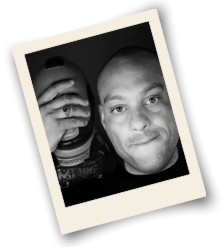 80s cartoons. Professional wrestling. Comic books. The vaunted halls and studios of professional entertainment. Multiculturalism and growing up in suburbia. Sci fi and Fantasy. Bad TV and cult movies. Social networking. The post apocalypse zombie future. Dungeons and Dragons.
Nothing you love is safe from ironic, irreverent, and spot-on standup Gavin Stephens.
Canada's most popular"nerd comedian," he was born to mixed race parents in the suburbs of Toronto. Gavin's comedy pulls from the same Saturday-morning cartoons, sugary cereal, science-fiction-and-living in our mom's basements background that he shares with his audiences, influences which are quite evident in a skillful style, that balances between playful irony, pop culture irreverence and morbid silliness. Gavin trades in hilarious nostalgia and the refusal to be a responsible adult.
No two shows are ever the same. Known for his (really) quick-wit and organic stream of consciousness comedic style, Gavin's live show consists of surreal crowd work and improv, yet his sharp, innovative and satirical material has garnered him a loyal following on YouTube, twitter, and facebook.
Not contented with just being the star of Canada's biggest nerd friendly comedy night NERDGASM, Gavin was also the reader's choice winner for best standup comedian from Now Magazine in 2010, and for five seasons was a leader actor and writer on the Gemini-nominated sketch show Comedy Inc. on CTV. A multi-media sensation, Stephens has filmed multiple one-man specials for The Comedy Network, has been a Featured Comedian on myspace.com, and appeared at international festivals like Montreal's Just For Laughs and Austin's SXSW with indie comedy legends Margaret Cho, Janeane Garofalo and Andy Kindler.
He has toured throughout Canada, England, the U.S. and South Africa as a highly sought headliner with his one-man multimedia show Spectacular! Spectacular! opening for international comedy superstar Russell Peters, and appears frequently to offer up his unique and ironic brand of comedy to geeks of every flavor at conferences, conventions, awards shows, and fundraisers.
Get On Side! Our Goal is to Support Local Hockey and Have Fun!