Ken
Hicks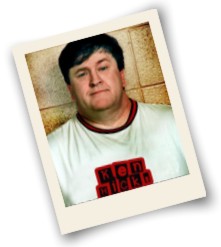 Ken Hicks has become a favorite of audiences by helping us find the humor in everyday life. Having a dog for a best friend, marrying his high school sweetheart, being a father of two daughters, what life as a comedian is like, and even what it's like to be a 3 time cancer survivor; never afraid of letting us laugh at him, while discovering a little about ourselves.
Touring throughout Canada; playing in Comedy Clubs, Bars, Corporate Functions, Fundraisers, Community Halls, and anywhere else there is a microphone and an audience, is the life of this Canadian Comic. There have been many highlights which include the chance to perform at Caroline's on Broadway, in New York City, and also at The World Series of Comedy in Las Vegas.
Get On Side! Our Goal is to Support Local Hockey and Have Fun!