Reviews of Puck-n-Funny
Comedy
As word of mouth is always the best form of advertising, we believe that OUR CLIENTS ARE OUR BEST ADVERTISEMENT. They speak for themselves:
"FANTASTIC!!! Thank you so much to Mike and the guys for putting on an excellent show. We raised a lot of money for the rink and had a great time doing it. We'll be booking again for sure!! "
Trevor Bernie – Wawota Forum
"On be-half of the Provost Regional Activity Center/ Task Force, I would like to Thank you for an incredible evening of laughter. Our Fundraiser was an absolute success thanks to Puck 'N' Funny. Not only did you provide us with an evening of laughs but helped us advertise our event through your tickets and posters. Your Silent Auction Items played a part in helping us reach our Fundraising goal."
Les Watchel – Provost Rec Committee
"EXCELLENT!! On behalf of Cold Lake Minor Hockey we would like to give a huge thank-you to the comedians from Puck N Funny. It was a great fundraiser for our organization. The comedians were hilarious and all had different styles of comedy. Very professional. Thanks again!"
Michelle Stabbler – Cold Lake Minor Hockey
"Thank you for providing our town with an excellent night of comedy and frivolity. The beneficiary of this evening was our town swimming pool, which needed some financial assistance to keep it's operating costs in line. The Puck N Funny event was a huge success as people began asking immediately if the comedians were returning next year.
There are several things we liked about the event. Firstly, the comedians are first-rate with cutting-edge comedy with a current events base and accurate social commentary. Each of the comedians brought their own unique style that seemed to fit in perfectly. As a small town with a variety of ages present, I have to admit that I was nervous prior to the event about the comedians being too crass or vulgar for some of our audience. However, after the event, there was not one single person of any age that said anything less than glowing about the acts. The comedians walked that fine line of adult comedy perfectly, and they set the audience up to feel comfortable and ready for more.
Second, The support of the Puck N Funny crew was superb. The pre-event marketing materials were a huge asset. The posters looked professional, the tickets were top grade, and the interview you provided to the local paper was a huge bonus for our event. At the event, the set-up of the silent auction items was excellent, and the large Puck N Funny sign lent credibility to the stage which signified that this was a legit event.
Last, but not least, the ability to reach you and remain in contact with you through the whole process was greatly appreciated. This was the first fundraiser of this scale that the pool committee had taken on. There are many pieces to be put in place when you host an event of this magnitude, and you was us through it with confidence. We particularly liked the fact that you would call us to check in on us to see how the event was going and how you could help. you were always available to us when we needed you, and helped us problem solve as issues arose. You could not have been more professional or personable in your approach to helping us have a hugely successful event, which we did.
We look forward to working with you in the future (next year) and would certainly be available to you in anyway to be a referral source for community interesting in holding this event. It is the least we could do to support you in the way that you supported us.
"On January 25th, FF2 hosted the Puckn' Funny Comedy night. It was a huge success. Mike and his team did an awesome job and received a standing ovation. The response we got was overwhelming with people stated they couldn't remember when they had laughed so hard and for so long.
I would strongly recommend Puck n' Funny for any organization who wants to raise money and have a great time doing it. Hats off and thank you for the many many laughs."
Tammy Ramsay – FF2, North Battleford, SK
"WOW! They were Puck 'n Funny! Already booking for next year. Don't hesitate, book now!"
The Radville-Laurier Regional Park hosted something new as a fundraiser on Saturday, March 14th at the Radville Regional High...Read Article
Radville Star
"The Puck 'N" Funny show that we held last weekend was a tremendous success. We have received here in the office more positive feed back from this event than any other I have been involved with. The entertainers were top caliber & the level of professionalism was second to none. I am looking forward to the next available opportunity we have to get your group back out here again."
"Puck N' Funny was just that, Puck N' Funny! Our New Years Eve Bash was a complete success and Mike Simmonds and Jody Peters were certainly the highlight. Friendly, open, witty and professional. The silent auction was a first for our fundraiser and it was a different and successful spin on the same old dinner/dance routine. From the eye catching posters and prop signs for the show, Puck N' Funny is a class act!
Mike & Jody kept the crowd in stitches for 2 hrs and stayed for mingling and drinks after the show and auction were complete. This personal touch was awesome and it was great for them to be able to receive feedback from the audience. I witnessed many handshakes and pats on the back. Our hockey club would certainly consider hosting Puck N' Funny for a future fundraiser and wish Mike, Jody and all the comedy troup much success in 2008.
On behalf of the Fox Creek Bandits Hockey Club and all in attendance at our New Years Bash, thank you for ringing in 2008 with many laughs."
"Looking for something new for our annual fall fundraiser, the Carnduff Red Devils couldn't have asked for a better kickoff to the season. Mike, Paul and Daryl provided the perfect blend of comedy that was hilarious to hockey fans and anyone with a sense of prairie life in general.
While adult in nature, the humour never stepped over the bounds to the state that anyone could find it offensive and the manner in which it was delivered left it as a topic of conversation on coffee row long after the final whistle. From the supplied posters & marketing support through to their willingness to stay and mingle after the show, Puck'n'Funny proved to be a class act. The quality of supplied sports memorabilia made the evening complete and we heartily recommend them to any group looking for something a touch above the ordinary."

A blind guy, a white guy, and a black guy walked into the Wynyard Civic Centre. What happened next? Lots and...Read Article
Denise Mozel – Wynyard Advance Gazette
"The Puck-N-Funny show was a big success. Mike, your show was a good mix with yourself and the other comedians and kept the people very entertained. The older crowd did not feel offended at any of the dialogue, and we gladly endorse Puck 'N' Funny to anyone who wants to do a fundraiser. You are very professional and are an easy person to talk to and we look forward to booking Puck 'N' Funny again. Thank you very much for the laughs."
"The Macklin Mohawk Executive would like to thank Puck 'N' Funny for the great entertainment provided at our hockey club wind-up & Awards Night. The night was a true success – thanks to the constant laughter throughout the evening. I'd like to recommend Puck 'N' Funny as they were very accommodating to the crowd. Not only did they provide us with many laughs, they provided us with tickets & great posters to advertise for the evenings event."
Gerard Gette – Manager, Macklin Mohawk Executive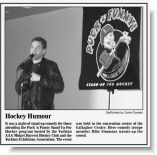 It was a night of stand-up comedy for those attending the Puck'N'Funny Standup for Hockey...Read Article
"On behalf of the Naicam Viking Senior Hockey Club I would like to thank Mike and his crew for a very entertaining evening. This is a great fundraiser without doing a lot of work. The posters are made for you and we heard a lot of comments on how eye catching they are, the tickets are printed for you, all you have to do is sell the tickets to make your fundraiser a success. Mike is very professional and I would recommend Puck 'n' Funny to anyone wishing to have a fundraiser."
Palmer Talloden – Naicam Viking Excutive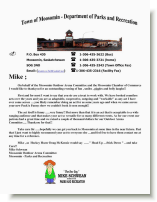 "The act itself is funny, very funny!! But more than that it is an act that is acceptable to a wide ranging audience and that makes your act so versatile for... Read Letter
Mike Schwean – Moosomin Outdoor Rink Association
"Puck 'N' Funny did a show for us after our '07 hockey season. The show was a huge success and people were still buzzing about the show weeks after. The comedians that performed for us had the crowd roaring all night. They were true professionals and although it was an adult show, they didn't need or use any f-bombs to perform their act. It was also appreciated that the comedians stuck around for awhile after the show to mingle with the crowd. Puck 'N' Funny is on our list of fundraisers again next year and I would highly recommend them to any organization."
Phil Flaman – Southey Marlins
"In April the Yorkton Harvest Midget AAA hockey club, held a comedy night with Puck n Funny. The Night was spectacular! All who attended thoroughly enjoyed the evening. Mike Simmons, Jody Peters and Paul Voisard but on a great show that lasted over 3 hours. The added bonus from a fund raising perspective was finding out that the organization got to keep the profit on any of the shirts and hockey memorabilia sold that evening. WOW.
I Would highly recommend a Puck N funny comedy night for your organization if you are looking for different fundraising event. Thanks for a great show, Mike!!!"
Fred Schrader – Yorkton Harvest Midget AAA
Get On Side! Our Goal is to Support Local Hockey and Have Fun!