Chris
Yuill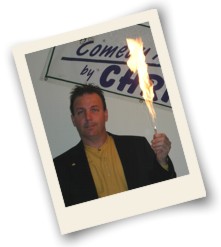 Chris has been entertaining audiences as small as a dozen people to coliseums of 35,000 people for over 20 years. His magic and comedy has earned him invitations to perform at Yuk Yuk's Comedy Club for their Vaudeville Comedy Revival and their "All MAGIC Nights".
He has performed for the Edmonton Oilers, W.I.N.G.S., Coca-Cola Corp., Edmonton Drillers, Fantasyland Hotel, Legion Halls, Christmas parties, and Private Functions. Chris is the Past President of the Edmonton chapter of the International Brotherhood of Magicians and is the co-founder of Edmonton's largest magic club and course for young magicians.
In 2006, Chris won the silver medal in the 2006 Pacific Rim Magic Challenge!
Get On Side! Our Goal is to Support Local Hockey and Have Fun!